Open Every Wednesday and Saturday 11am-3pm
---
FEATURING

(Delicious homemade jam. Also enjoy her amazing English Muffins, freshly made from Casa de la Pradera in Fiddletown, CA)
EXCITING NEWS!
---
UPCOMING EVENTS:
Natural Solutions for Healthy,
Do you need safe, effective, and affordable health solutions? Come learn how Essential Oils can empower you to tend to 80% of your health priorities at home in a natural way that works with your body's innate systems of healing and detoxification. In this introduction to doTERRA Essential Oils you'll learn:
What essential oils are, where they come from, and why they are so powerful

What makes doTERRA Essential Oils unique

3 ways to use oils safely and effectively

Which oils can be used to target your personal health priorities!
You'll have the opportunity to make your own oil blend specific to your needs using doTERRA's top 10 oils. The cost for each blend is $10.
If you would like to incorporate a more natural approach for health and home, this class is for you!
---
THIS WEEK'S RECIPE!
Garlicky Bok Choy
Ingredients:
(locally sourced and organic when you can)
1 tablespoon olive oil oil
2 garlic cloves, chopped
1 shallot, chopped
1 pound baby bok choy, rinsed, cut into quarters, with core intact
salt and pepper to taste
Directions:
Heat oil in a large skillet or wok over medium-high heat. Add garlic and shallot and cook, stirring, until fragrant, about 30 seconds. Add bok choy, salt and pepper and 2 Tbsp. water and cover immediately. Cook 1 minute. Uncover and toss, then cover and cook until bok choy is tender at the core, about 3 more minutes.
---
FEATURING AT THE MARKET:
Upcountry Farms with fresh produce and flowers.
Casa de la Pradera will offer homemade bread and jams.

Resonance of Light with herbal creams and salves.

Winterport Farm with pasture-raised Beef.

Butte Mountain Farm will be there with lots of fresh produce, eggs, chicken and dried goods.

Pancake Power Foods with her organic baking mixes, spices, and breads.

South River Lavender with lavender products and flowers.

Majestic Oak Farm has olive oil, duck eggs and seasonal produce.

Sierra Herbal Wellness with a host of herbal teas.

Certified Angel Card readings with Larry, intuitive sessions and metaphysical supplies.

Paloma Pollinators offering Bee Inspired Toys.

Two Women and a Farm has homemade soaps, flower wreaths and herbs.

Blue Belle Farm with delicious and organic micro-greens.

Kneading Dough Bakery with breads made with organic flours, Free-range and pasture-raised eggs fresh from a neighboring farm, with no added preservatives.

Lucy's Spice Box offering her super HEALTHY and convenient, locally sourced, take-away lunches.

Also featuring local artists:
Linda Cole
Mountain Girls Gold Mine
Sutter Creek Creations
Gray Horse Studios
Laura Carpender
Joan Winter
Elemental Goddess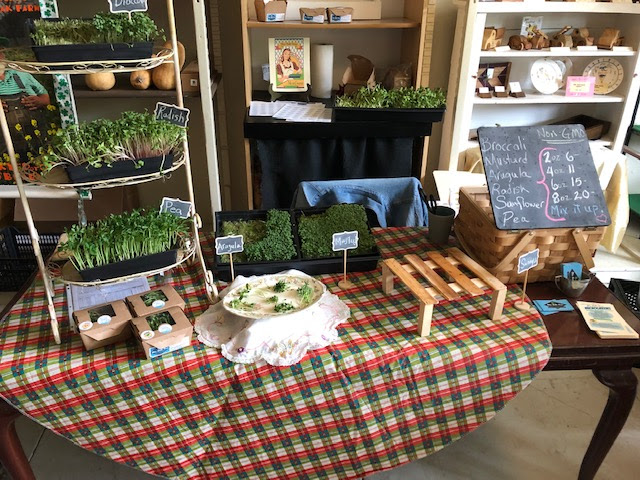 ---
---
Check out the Amador Farmer's Market flyer below to see when the market starts in your area!
---
THE MOTHER LODE EXCHANGE
All items are made/grown locally with love and are focused on organic and sustainable living.

Follow us on Instagram and Facebook.

www.motherlodeexchange.com

See you at the market!

Sincerely,

Mother Lode Exchange
Community Market
DON'T FORGET
We've Moved to a New Location!
Now Located at the Historic Chichizola Store,
1324 Jackson Gate Rd in Jackson.
A BIG THANK YOU to the
Mother Lode Land Trust for making this possible.
Check out our new website!
Copyright © 2019 Mother Lode Exchange, All rights reserved.
You are receiving this email because you have expressed interest in local foods and farm products.

Our mailing address is:


Mother Lode Exchange

P.O. Box 1836

Jackson

,

CA

95642